NWSCC web site

FWSA web site

NSCF web site

Ski Trips
Last updated: August 7, 2022.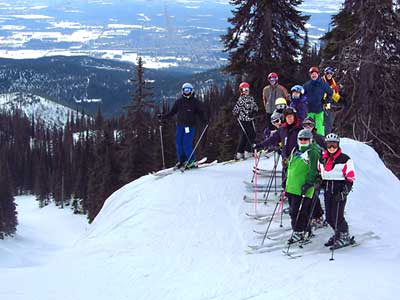 Every year, we organize at least one or two weekend bus trips and one or two longer trips, as well as joining forces with other ski clubs (within the NWSCC and FWSA) to organize multi-club trips. We also have informal day-trips to Mt. Hood ski areas.

See How to pack for bus ski trips.
Trips Calendar Color code:
Mountain High trips are in BLUE,
FWSA trips are in Maroon.
Multi-club trips are higjlighted in PINK.
Click on any trip listed for more info.
Mountain High members at Whitefish Mt. Montana
2022/2023 Trips



For all trips, see:

DATES

PHOTOS OF

SOME PAST TRIPS

* Powder Hwy. (2020)


* Mystery trip (2017)

* Canada trip (2016)

* Crystal Mt. trip (2016)

* Montana trip (2016)

* North Idaho (2014)

* Leavenworth (2014)

* Whitewater, Red 2013

* Shasta, Ashland 2012

* Powder Mt, Utah 2012

* Leavenworth 2011

* Crystal Mt. WA 2011

* Fernie, Canada 2010

* Mystery trip, OR 2010

* Heavenly, CA 2009

* South Oregon, 2008

* White Pass, WA 2008

* Powder Mt. Utah 2007

* Mission,Stevens 2007

* Val d'Isčre (Alps, 2006)

* Idaho bus trip (2006)

* Canada ski safari 2005

* Crystal Mt., WA (2005)

* Big Mt., MT train (2005)

For more photos, see the Photos page.

All winter
Weekend day-trips to Mt. Hood


All winter

October 8 - 15, 2022

FAR WEST 2021 DIVE TRIP
Cozumel, Mexico


Jan. 21 - 28, 2023


2023 FWSA Ski Week in Jackson Hole, WY Annual trip by the Far West Ski Association

Jan. 25
- Feb. 1
2023

Canada Trip: Whitewater & Red. Mtn.


A week-long trip. A bus trip.


Trip Leader: Karen Michels


Feb. 24 -


March 12, 2023

FWSA International Ski Adventure

Feb. 26 -
Mar. 1, 2, or 3 2023
McCall (ID): Brundage Mt. & Tamarack


3 or 4 or 5 nights. Drive to or carpooling.


Trip Leader: Linda McGavin


March 21 - 27, 2023

2023 Mini Ski Week at Taos NM




March 31 - April 2, 2023

NWSCC Bachelor Blast
(open to all local ski clubs)


June 25- July 2, 2023

FWSA

Cruise - Yet TBA










Weekend skiing


at Timberline


In past years, we've had anywhere from a dozen to about 20 ski days at Timberline and Skibowl. We ski there as a group mainly in December and then again Spring skiing in March, April, and May.




In January and February, we are less active locally.


In the middle of winter, we are usually busy with ski trips, PACRAT races, and other events. But, we will most likely ski together at Skibowl and Timberline every weekend in March. April and May, until Memorial Day, when all the regular ski passes (Fusion pass, Spring pass) expire.

Join in the fun! Make the effort to join us in Sandy, so we can start the day together!










More alternate transportation




Since about 2018, Timberline has been providing its own shuttle buses between Government Camp and Timberline, encouraging us to leave our cars in Government Camp. These buses run around the clock, so you can expect them once every 30 minutes or once an hour.

Timberline's shuttle buses stop at only two places:

1. In the parking area just below the Ice Axe brew pub.

2. In the parking lot of the Summit ski area




The problem is that one bus stops only at the lower end of Govy while the other bus only stops at the upper end. The same bus doe NOT pick up at both locations.




These shuttles are free for everyone who has a Timberline or Fusion Pass.

Just for fun gatherings

Come ski with us! Just for fun. Can you show us some new trail. a secret stash, a hidden slope? Or can we show you something new you haven't skied before? Let's find out.

Normally, we meet at McDonald's in Sandy (left at 3rd traffic light in Sandy) around 7:30 - 7:45am. You'll find us either in the parking lot, or inside McDonald's, getting a cup of coffee. From there, we can either carpool or caravan (follow each other's cars) to the ski area. NOTE: This carpooling is optional. It doesn't happen every time. See what is announced ahead of time in our Forum.

Please Join one or both of our club's Forums (Weekend and/or Mid-week). You can post messages there, see when other people are planning to go skiing, and communicate with them.

Simply click on one of the Forum buttons in our main menu. Then click on "Join this Group" in the upper right of the window. Give the system your email address, so that you can then automatically receive an email whenever someone posts a message in the Forum or replies to your message.

Alternate ways to meet: (if you miss us in Sandy)

1. On the mountain, meet us around 9:00 am (or 8:00 am after May 15) near the ticket office, or just outside the day lodge, near the free ski check, ready to go skiing.




2. On a 2-way radio, find us on Channel 6-19. Just ask for "Mountain High" people!

For more info, contact Emilio, Emilio2000@earthlink.net, or 503-510-1477.




Alternate transportation (by bus):

On some nice day (when it's not windy or rainy in Sandy), let's try using the Mt. Hood Express bus. A bus ticket costs only $2, and it saves you not only the cost of gas but also the wear and tear on your car. We'll try to announce those days in advance.

Catch the bus on the far western end of Sandy. Even before you get to the first Sandy traffic light (near Fred Meyer), turn right at the ARCO gas station (barely visible from Hwy. 26). Then an immediate left into the parking lot of the Mt. Hood Forest Center. Leave your car there and walk up the few steps to Highway 26, where you will see a small stop shelter. The bus leaves there at 7:45 am, arrives at Skibowl at 8:30 am, and at Timberline at 9:00 am.

See bus schedule at: http://www.mthoodexpress.com/#!schedule-map/c1h6a

Mid-week skiers

The current group of mid-week skiers tend to be advanced skiers who enjoy powder skiing and challenging terrain (trees, bumps, ungroomed snow) at Mt. Hood Meadows.

Here are just a few of the regular mid-week skiers:

Debbie Thomas Kay Kinyon Walt Blomberg

George Yun Kurt Krueger

to Mt. Hood ski areas.

A group of us go skiing at Mt. Hood Meadows on week days, all winter, often on Thursdays, but also whenever there is good powder, or whenever the fancy strikes!

At Meadows, find us in the cafeteria in the South lodge near the Schuss restaurant (aka The Hamburger Place) around 8:00-8:30 a.m.(That's on the slope level, which is 2nd floor). Left lodge as you walk up from the parking lot.

You can connect with the mid-week group by joining our online Midweek forum page: http://groups.google.com/group/MtHigh-midweek?hl=en . Click on the Join this group link (on the upper right of the page) and follow the instructions.

Please choose to receive all emails from the group. That way, you will be notified when the group starts making plans to go skiing.

Once you join this Forum (which is actually a Google Group), you can post messages in the midweek forum whenever you want. Only your first message, or your first joining, needs to be approved by a group moderator..

Sometimes we use 2-way radios to connect on Channel 6, Code 19, but almost nobody in the Meadows group uses radios any more, so this is not a reliable way to connect.

Note:

Passport is required.

Find out how to apply for or renew your passport in this recently updated article on Passports.

Your Passport must be valid until six months after your return. It is your responsibility to ensure your required travel documents are in order and with you.

FWSA Scuba Diving Trip to


Cozumel, Mexico


12th annual scuba dive trip

with Randy Lew

.

October 9 - 16, 2021




Land Package (Price per person, double occupancy)

(Air transportation not included in above pricing)




Price Includes

7 Nights at Iberostar Cozumel Resort - Dbl. occupancy with all meals daily.

Alcoholic and non-alcoholic beverages

Resort fees, taxes & gratuities (housekeeping tips, dive gratuities, Marine Park & ECO Room fees not included).




5 X 2 Tank morning dives, 1 night dive, including 2 Cenote dives.

PADI CDC Center – Dressler Dive Center onsite

Complimentary Nitrox

Complimentary Wi-Fi

Resort amenities

Welcome Party and Farewell Dinne

Contact: Randy Lew, FWSA Dive Trip Leader,

P.O. Box 9237, Truckee, CA 96162, 530-304-0802.
Email: divetrips@fwsa.org


More Info: https://www.fwsa.org/content.aspx?page_id=22&club_id=623165&module_id=506917

Jackon Hole, WY




Jackson Hole, WY


January 21 - 28, 2023
Annual ski week organized by the Far West Ski Association.

Join us for a week of skiing, partying, and racing in Aspen.


Trip package includes lodging and FWSA and Council parties. Additional costs for lift tickets, group air/ground, and Council Challenge races.

Details at:


https://www.fwsa.org/content.aspx?page_id=22&club_id=623165&module_id=334799



Questions: Contact Rod Robinson, 541-344-7170 Rdrobinsonskier@gmail.com.





Whitewater ski area, B.C.


Red Mountain - Paradise area




View of Red. Mt. from Granite Mt.

Josie offers ski-in/ski-out at Red. Mt.

VIDEOS




1. Whitewater video ,


2. Linda & Bruce - Whitewater pow








Click Here for full trip flyer and details. Important info on pages 2 and 3.

Red, White and Blue

Red Mountain and Whitewater, B.C., Canada




January 25 - February 1, 2023

Join us at Red Mountain and Whitewater, B.C.




Full trip price includes:

roundtrip charter bus transportation from Portland via Bluestar Coachlines Canada,
7 nights lodging (business class and above),
3 Red lift tickets,
2 Whitewater lift tickets,
a few meals and
a bus load of club members to enjoy the trip with!!

We will start our trip in the vibrant mountain town of Nelson, British Columbia. We will stay 3 nights in traditional hotel rooms with TWO people per room. Rooms have QQ bedding. There is a restaurant onsite and we are located on the edge of downtown within walking distance to shops and restaurants.




We will ski Whitewater Ski Resort, less than a 25-minute drive from town on Thursday and Friday.




On Saturday, a surprise awaits us on our travel day to Rossland, British Columbia. Once we arrive at Red Mountain, we will stay ON MOUNTAIN at the Josie hotel for 4 nights. All hotel rooms will be QQ set up with TWO people per room. There is a restaurant and bar onsite and the town of Rossland is a quick 5-minute shuttle ride away. In addition, for a fee there is an onsite spa and 2 slope side saunas to enjoy during our visit!!




Whitewater Resort is in the Selkirk Mountains and typically receives over 40 feet of powder!! Whitewater boasts over 2300 acres, 82 runs and 2044 feet of vertical. The trail break- down is about 11% double black, 47% black, 34% blue and 10% green. Whitewater also offers Nordic trails for cross country skiing, snowshoeing and fat biking. Please note that Whitewater is off the grid. That means no cell service and no Wi-Fi while at the resort. You are there to ski anyway!!




Red Mountain Resort is located 5 minutes from the town of Rossland in the Monashee Mountains. It has 8 lifts, 119 runs, 3850 skiable acres with 2900 feet of vertical. Red receives over 300 inches of snowfall on average and has three separate peaks to enjoy. Trail break-down is about 26 % expert, 23% advanced, 34% intermediate and 17% beginner so there is something for everyone.




Pricing is per person based on double occupancy:

Adult = $1725
Senior (65-74) = $1627

Super Senior (75 and up) = $1305

$500 deposit to secure your spot.





If you have a reciprocal pass that includes lift tickets to either of these resorts, please reach out to the trip leader for special pricing.




Trip Leader: Karen Michels 503 984 9210 - text preferred




Click Here for full trip flyer and details. Important info on pages 2 and 3.





See our Mt. High Trip Cancellation Policy

Zermatt, Switzerland

with an optional extension to


Costa del Sol, Southern Spain & Mallorica


.

Feb. 24 - March 12, 2023 -- Solden, Austria trip.

A week of skiing in Austria.


Plus an option post-trip extendion to Southern Spain.




More info at


For information contact:
Debbie Stewart at FwsaIntlTrvl@prodigy.net

or 559-737-0882 [C]




The base area at Brundage.





Brundage Mt. - View from the top




The yurt at Brundage Mt.

Phil and Kurt at Tamarack

The ridge at Tamarack







Click here for





McCall, Idaho

Brundage Mt. & Tamarack


3 - 6 nights. 2 - 5 ski days. Travel by car, train, or plane.





February 26 - March 1, 2, or 3, 2023.

Join us for a wonderful adventure.




2-5 days skiing: February 27-March 3 (Monday-Friday) Your choice, depending upon your free lift tickets and how many days you want to ski

START DATE: Sunday, Feb. 26 – Drive to McCall & check in. You can book as many as 5 nights at our group rate.

Note that this trip (like the Schweitzer trip last year) will be different from our usual ski trips - because of the virus/pandemic:

Everyone will be driving their own car. We will NOT have a bus.
For lodging, you can select your own roommate (optional), or simply have a room to yourself. Your choice. We will not assign roommates.
You are responsible for purchasing your own lift tickets, either day tickets, exchange tickets (Mt. Hood Meadows (to be confirmed), or a pass (Indy Pass or Loveland pass).

HOTEL - Book your own room under our group rate at the Best Western Plus in McCall, 211 S. 3rd Street, McCall, ID; 208-634-2230. [They are right across from the McCall airport, Raj.] Your trip leader usually books budget lodging, but this trip is an exception, as we will be staying at a beautiful hotel with lots of amenities (check out the pictures on their website!). Our group rate is $179.99 plus tax ($206.99 including tax) per night, per double queen room.




To get this rate, just tell the hotel you are with the Mountain High club.




The hotel offers free parking, wireless internet, premium bedding, non-smoking spacious double queen rooms, a 24-hour indoor swimming pool, oversize jacuzzi tub, spa, sauna and gym. Enjoy a daily, complimentary full hot buffet breakfast which includes freshly made breakfast burritos, breakfast sandwiches, cereal, fruit, yogurt, juice, pastries (and they will deliver to your room from 6:30 to 9:30 a.m.) They said they have an omelette chef also!

The rooms have premium bedding, High Speed Wireless Internet, Refrigerator, Microwave, DirectTV, Hairdryer, Iron/Ironing board, Desk, and Alarm Clock. Note that there is an elevator!

Please book your hotel room early – we only have a certain number of rooms. After January 15 our room block will expire, but you can still make reservations at our rate if there is space. There is no penalty for canceling up to one week before your arrival.

The hotel is located 11 miles from Brundage and 20 miles from Tamarack. The City of McCall operates a mini bus called McCall Transit from 7:00 a.m. to 7:00 p.m. 7 days a week, free public transport to anyone. In the winter time the city of McCall provides free transit for all hotel guests to their activity destination skiing or snowmobiling.

SKIING AT BRUNDAGE: 2 or 3 days (your choice, depending upon your pass). Brundage has been on an exchange program with Mt. Hood Meadows all access passholders and Loveland Ski Area passholders, who can get 3 days free skiing midweek. They are also on the Indy Pass (2 free days of skiing). Indy Pass holders do not need to pre-schedule visits. Simply bring your valid photo ID to the on-mountain Guest Services office to redeem your ticket for the day. In addition to the two days included in the pass purchase, you may purchase a third day at 25% off. You can make that purchase the day of your visit. Like many ski areas these days, Brundage will sell tickets online in advance, at some kind of discount which is not known at this time.

SKIING AT TAMARACK: 2 free days with the Indy Pass.

KEEP OUR TRIP LEADER INFORMED
Everyone who signs up for this trip, please contact Linda McGavin and let her know the following:

Did you make your hotel reservations, and for how many nights (2 or 3 or more)?
Where do you expect to ski, and which pass(es) do you have?

OTHER ACTIVITIES


There are lots of restaurants in the area listed on the hotel website, which also lists many other activities in the area, including:

HFP Sleigh Rides, a horse drawn sleigh to observe and feed elk in Donnelly (13 mi.)
The Activity Barn tubing hill (3 mi.)
Gold Fork Hot Springs (15 mi.) and
Burgdorf Hot Springs (33 mi.)

Brundage Mountain Resort: Summit Elevation 7,803 feet; Base Elevation 5,882 feet; Vertical drop 1,921 feet; 6 Lifts (One high-speed quad, four triples, one conveyor lift). 70 Named Trails (Easiest: 21%, More Difficult: 33%, Most Difficult: 46%). Snowcat skiing is available – ask your trip leader if you might be interested and we'll check it out. We did it on our last visit to Brundage. Wonderful mountain views of Payette Lake and the surrounding countryside.

Tamarack Mountain Resort: Summit Elevation 7,700 feet; Base Elevation 4,900 feet; 1,100 acres; Vertical drop 2,800 feet; 7 Lifts (3 express, 2 doubles, 1 poma, 1 magic carpet). 50 Named Trails (Easiest: 17%, More Difficult: 45%, Most Difficult: 38%). While the original tent at the base area (which used to be the lodge at the time of our very first visit) is still there, a mountain village that looks like Whistler has been built, with HIGH end lodging and dining: the Rendezvous Food Hall, an indoor open venue featuring an eclectic mix of four eateries; The Triple B Diner, El Pueblo Taqueria, Crusty's Pizza and Summit Bowls. Tamarack's newest offering, The Reserve, features alpine-inspired Northwest cuisine in a mountain modern atmosphere.

Join us for a wonderful adventure!

NOTE: The club is not collecting any money for this trip. We will pay the hotel individually and buy lift tickets individually. And for transportation, we;ll drive our own cars.

Click here for the Idaho trip flyer.


Trip leader:

Linda McGavin, trips@mthigh.org , 503-652-2840.




To sign up for this trip, simply do two things:

1. Make your hotel room reservation - online.

2. Contact Linda and let her know your situation. Did you make your hotel reservations, and for how many nights (2 or 3 or more)? Where do you expect to ski, and which pass(es) do you have? How many days will you ski?


See our Mt. High
Trip Cancellation Policy





Taos, NM

March, 2023.

The largest and most famous ski area in New Mexico.





Trip details are posted at:

https://www.fwsa.org/content.aspx?page_id=22&club_id=623165&module_id=334799

Contact: Gloria Raminha garski2011@gmail.com
Trip Leader
12707 Windy Ridge Dr., Bakersfield, CA 93312
661-800-8229 [C]
661-829-5996 [H/F]




Nancy Ellis vpnorthamericantravel@fwsa.org
VP North American Travel
P.O. Box 9681, Truckee, CA 96162
530-582-0566 or 530-414-8261







Mt. Bachelor

Trip open to members off all local ski clubs in the Northwest




March 31 - April 2, 2023.





Everyone from all NWSCC clubs is invited to join us!





Lodging: La Quinta Inn by Wyndham Bend


61200 S Highway 97 Bend, OR (See map)



All rooms include free parking, deluxe continental breakfast, high speed internet, fitness center, indoor swimming pool (slat water). It's a non-smoking hotel - pet friendly. 10 minutes from downtown Bend. 35 - 40 minutes to Mt. Bachelor.




Per person, double occupancy. Choice of a King bed or 2 Queen beds.

Sign up with your roommate of choice or pay a single supplement of $100. We will not assign rommates for this trip.




You have the option to arrive early on Thursday night (for Friday skiing) or to stay Sunday night. We will be asking for people to sign up with a roommate of their choice or to pay a single supplement; we will not assign roommates on this trip. Sign up early to get the room of your choice, as we have a limited number of rooms and La Quinta has told us they will sell out of rooms and we may not be able to add more.




The price of $290 (PP/DO) for adults includes 2 nights' lodging at either place, 2 continental breakfasts, and a 2 consecutive day lift pass. Prices are lower for seniors, super seniors, children and teens!





Seniors 65-69 and teens 13-18** pay only $260!!
Super seniors 70+ and youths 6-12** pay only $230!!

Non-skiers pay only $125.





** With 2 paying adults, children stay at no extra charge – just pay group rate for lift tickets.





Come early or stay later. Great prices available for add-ons to either end of the trip.





See flier and signup form.





Sign Up & Pay By March 1, 2022 / Form is on the NWSCC Website.




Questions?? - Contact: Linda McGavin at editor@nwskiers.org / www.nwskiers.org




NOTE: This is a multi-club trip open to all Northwest ski clubs. It is organized by the NW Ski Club Council. Payments for this trip should be sent to the NWSCC; not to our club. Instead of the Dough Transmittal Form, please use the signup form mentioned above.









Cruise to Alaska


June 21 - 25, 2022 - Denali Tour


June 25 - July 2, 2022 -- Inside Passage Cruise.

Join the Denali Tour and Alaska Cruise June 21-- July 2, 2021. Participants can sign up for the Denali Tour or Alaska Cruise or for the combined two trips. The Denali Trip starts with two days in Fairbanks, AK, followed by two days in Denali, and ends in Anchorage for those doing this portion only. The Inside passage Alaska Cruise starts in Whittier and travels southward with stops in Skagway, Juneau, and Ketchikan before docking in Vancouver, BC.




Per Person Rates for the Alaska Inside Passage Cruise:
$2,199.00 - Balcony Rooms/ Obstructed Views
$2,299.00 - Balcony Rooms/ Unobstructed Views
$2,599.00 - Junior Suites
Plus $234.00 per person port fees




Included:

Welcome Cocktail Party

$25 per cabin credit ($12.50/person)

Tips - $14.50 per day per person ($101.50 wk.) charged to ship card daily

Those who signed up for 2021 Coral Princess received the FREE premium beverage package; Free Wi-Fi; and FREE gratuities (approximate value $900) and this carries over when you were rebooked for the 2022 Majestic Cruise.



2022 Majestic Princess new signups will be informed of


"Special Deals" at the time of booking.



WHITTIER, AK: BOARD SHIP BEFORE 8:30P.M. SATURDAY
Those on the optional Denali Tour will be bused to the ship on Saturday about 5 pm




Those on the Cruise Only:
Option 1--Fly into Anchorage Saturday and take ground transportation to ship before 8:30 PM Transfer $59.
Option 2--Fly into Anchorage Friday, June 24, 2022, and stay at Captain Cook Hotel overnight and take 2 transfers to ship by 8:30 PM Saturday--$264 per person double occupancy.


SHIP DEPOSITS: $250 PER PERSON TO BOOK ROOM NUMBER
Check payable to "FWSA"
Send check to: Nancy Ellis, P .0. Box 9681, Truckee, CA 96162


Trip information and registration on the FWSA.org website:

https://www.fwsa.org/content.aspx?page_id=22&club_id=623165&module_id=386556




Mayan Princess Beach

Note:

Passport is required.

Find out how to apply for or renew your passport in this recently updated article on Passports.

Your Passport must be valid until March 30, 2018 (six months after your return). It is your responsibility to ensure your required travel documents are in order and with you.

FWSA Scuba Diving Trip to Roatan

7th annual scuba dive trip

with Randy Lew

.

October 9 - 16, 2021


Roatan,: located between the islands of Útila and Guanaja, is the largest of Honduras' Bay Islands. The island was formerly known as Ruatan and Rattan. It is approximately 77 kilometers long, and less than 8 kilometers across at its widest point.


Basic Land Package (Price per person, double occupancy)

Price Includes

7 Nights at Anthony's Key Resort - Dbl. Occupancy with 3 meals daily
Use of paddle boards, kayaks and snorkeling
Day excursion to Maya Key and admission to Roatan Museum
Airport transfers from Roatan Airport to resort
Complimentary Wi-Fi
Resort taxes

(gratuities are NOT included)

*In Addition, the Dive Package includes

6 days of 3 tank boat dives & 2 single tank night dives
Buoyancy control workshop
Shore diving during shop hours

**In addition, the Snorkel package includes

2 Snorkels daily by boat with guide and 1-night boat snorkel
Underwater fish ID card
Slide show and one Dolphin Encounter

Contact: Randy Lew, FWSA Dive Trip Leader,

P.O. Box 9237, Truckee, CA 96162, 530-304-0802.
Email: divetrips@fwsa.org


More Info: https://www.fwsa.org/content.aspx?page_id=22&club_id=623165&module_id=413574




Stone gates, Old town, Zagreb


Plitvice Lakes


Plitvice Lakes National Park


Dubrovnik


View from promenade between the town of Bol and the Zlatni Rat beach. Island of Brač.


Bol on the island
of Bra

č.

Land & Boat/Yacht Adventure Trip


September 3 - 11, 2022.

Discover the MAGIC of CROATIA…

Visit the "Must See" sites of Zagreb, Plitvice Lakes National Park, Split, Trogir, the islands of Brač, Hvar, Korčula, the "The Pearl of the Adriatic" - Dubrovnik, and much more!




You'll be staying 3 nights in beautiful 4 Star hotels and the rest aboard the luxury 5 Star MS President yacht.





The Deluxe MS President provides a perfect platform to explore the stunning coast and islands of Croatia and Dalmatia. Built in 2012, this yacht-like cruiser boasts sleek lines, and the modern facilities expected of a Croatian cruise vessel of this standard. All en suite cabins have been perfected to give you the space and comfort required during your cruise. Located on 2 decks, each feature either twin or double beds, air-conditioning, LCD TV, safe, hair dryer and much more. The MS President boasts a large indoor restaurant-salon, comfortable seating, bar and dining facilities with an outdoor terrace. Most of the leisure time on-board is spent on the huge sun deck with its plunge pool, sun-chairs and large shaded area. To make the most of every swimming opportunity there is a platform at the rear of the ship with a ladder for easy access to the water.





Trip highlights include:


Lodging in 4 Star hotels and "MS President" Yacht - 5 Star
(Incredible value – comparable trips can cost $6500-$10,000)
Minimum number – 30 participants and maximum number - 40, so sign up early!
Round trip group air transportation from LAX
Ground transportation will be by airconditioned motor coach
Welcome reception & dinner and Farewell Dinner
Tentative meals: breakfast daily, 6 lunches & 4 dinners
Tips included - drivers, guides & tour leader, welcome and farewell dinner, wine tastings & crew tips
Explore Plitvice National Park – the most famous park in Croatia and a "wonder of nature"
Guided walking tours visiting several UNESCO World Heritage Sites including Diocletian's Palace, Trogir, the highest peak of Croatia - Vidova Gora with breathtaking views of the Adriatic, visit the Museum of Olive Oil & enjoy tastings, visit the birthplace of Marco Polo – Korčula and so much more!
The UNESCO World Heritage Sites of Dubrovnik with its 16th century stone-walled old town, has gained popularity and bolstered to global recognition after serving as the filming location for The Game of Thrones.

See the complete Trip flyer and itinerary for more details.

Use this Registration form to sign up for the trip.



Estimated Group Air from LAX = $1413.00pp
Air price DOES include estimated Fuel surcharges, Taxes and current Exchange Rate – subject to change.
It is highly recommended to use the FWSA Group Air Transportation.




Approximate Land Packages (not including air):
Starting at $3340.00pp - Double Occupancy*


with $5225.00pp - Single Supplement*
*Pricing is based on a minimum of 30 participants and an exchange rate of 1 USD to .87 Euros - subject to change.





Make checks out to: Far West Ski Association (FWSA). Please reference "FWSA 2020 CROATIA Trip" on each check.




Send to: Debbie Stewart
FWSA VP of Int'l Travel
430 S. Church St.
Visalia, CA 93277
Email: FwsaIntlTrvl@prodigy.net or


Cell: 559/737-0882 CST # 2036983-40









Total visits from Oct.1, 2009 -- Sept. 30, 2010 was: 2,541
Total visits from Oct.1, 2010 -- Sept. 30, 2011 was: 1,825
Total visits from Oct.1, 2011 -- Sept. 30, 2012 was: 1,656
Total visits from Oct.1, 2011 -- Sept. 30, 2013 was: 1,685
Total visitors since Oct. 1, 2013: