Even if you have never dreamed of being a racer, give it a try. It's well worth it. It will enhance your social life, and improve your carving skills! Teams are usually formed by mid-November, so apply early! See instructions below.
Contact: Racing@mthigh.org
---
GS Training: Contact: Greg Dilger - gdilger2@yahoo.com
Each Friday during the winter season, there will be a GS Training clinic, mostly at Mt. Hood Skibowl and/or Timberline. Meet in the lodge by 8:30. Cost is only $35 (plus a lift ticket).
Please RSVP to Coach Greg Dilger with of the Mount Hood Adult Ski Racing Association. The location might change due to weather and snow conditions. It will be at Ski Bowl when conditions permit. There is a third coach available this year to assist.
NOTE 1:
All racers should contact a team captain, and sign up for a specific team. Each team consists of 10 racers.
NOTE 2:
TYPICAL RACE DAY
Discounted lift tickets for PACRAT racers can be purchased by showing your racing bib.
8:45 am - Brief team captains' meeting in the day lodge.
9:00 am - Start skiing--Warm up and inspect the course.
10:00 am - Race begins for the first group of racers.
See the starting order that is emailed to all the team captains,
or ask to see a copy at the team captains' meeting in the lodge on the morning of the race.
3:00 pm - Apres ski party. Locations will be announced for each race.
Open to non-racers for a small fee to cover the food and drinks.
PACRAT Owned Timing Equipment
The PACRAT racing league has their own timing equipment.
Less waiting for unreliable systems that they had no control over.
Below is the wireless timing system PACRATs uses: Phoenix Microgate.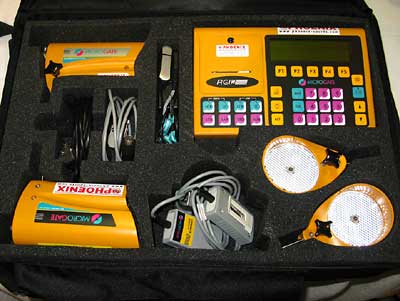 Click on image on right to enlarge it.
How to find out more & join a team
1. Click here to read more about PACRAT racing. General Description.
2. PACRAT flyer - Print it, and post it somewhere, or send it to a friend!
3. PACRAT Racing video - See how it's done, both the races and the aprθs-ski parties.
4. Contact our Racing director, Racing@mthigh.org or any Team captain to get your name on a team:
Remember, each team can have a maximum of 10 people, preferably of varying abilities, so even if you are a beginner racer, or have never raced, please don't hesitate to call us. We need you!
NOTE: This is an older list. Some team names or some contacts may have changed since then.

| | | |
| --- | --- | --- |
| Team Name | Team Captain | Email |
| Avalanche Express | Gary Gunderson | |
| Awesome tAles | Alan Bean | |
| Chilled Brewskis | Brenda Becerra | |
| Frosted Flakes | Bruce Kuper | |
| Mixed Nuts | Samy Fouts | |
| Moose On The Loose | Paul Lyshaug | shaugs@netzero.net |
| Mt. Hoodlums | Phil Mant | |
| Rattitudes | Chris Wiley | |
| Schussing Shysters | McCoy Smith | |
| The Ocho Plus | Mike Peck | MikePeck@TCMcorp.com |
| Vertigo Madness | Tom Cansler | |
PACRAT Bylaws: PDF

PACRAT Operations Manual: PDF
All about: Eligibility, Teams, Classification, Scoring, Points chart, Handicap system, and Categories.
Class Revision Explanation: PDF
Explanation of how the 7 categories (or classes) are determined, based on a person's handicap.

Pacrat Scoring System Summary Definition of terms: PDF
Explanation of terms used in the Race Results (such as Bonus points, Upstrike, Downstrike, DNS, DNF, etc.)
PACRAT Timing and Rules: PDF
Dale Parshall explains various racing rules and procedures, such as what happens if you forget your racing bib, if your ski falls off, if you miss a gate, or if there is interference on the course.
Pacesetter Explanation: PDF
Dale Parshall explains how the zero par times (ZPT) for our race courses are calculated.
Slipping the course: PDF
Diagram showing how to correctly slip the course.
How to pick the best line through the race course. Web page | PDF
Diagram showing what it means to "start your turn early" and pick a faster line.
Race Results
Find the latest race results on the PACRATS website: https://www.pacrats.org/main_pages/race_results.htm
How to Read the Race Results
EXPLANATION OF TERMS
POINTS: Everyone earns one point just for successfully running the course at least once. You earn 10 points for a first place in your category. 9 points for second place. 8 points for third place. The scale is adjusted depending on how many are in a class.
BONUS POINTS: You get 3 bonus points every time you improve on your own best previous result, that is when you improve your best previous handicap.
CATEGORIES: There are 7 categories for men, and 7 for women. The result of your first race determines which category you will be in. After that, when you improve to the point that your result lands in a higher category, you will be moved up into the higher category for the following race. But it takes 2 below par results before you would be moved back down into a lower category.
UP-STRIKE: A letter "U" next to your name indicates that you have exceeded the results typical for your own category. Receiving even a single up-strike means you will be moved up to the next category.
DOWN-STRIKE: A letter "D" next to your name indicates a down-strike. Your result fell short of what is typical for your category. If you receive 2 down-strikes (in 2 consecutive races), you will be moved to a lower category for the following race.
HANDICAP: This number shows how you compare to the fastest theoretically possible time (the time a top World Cup racer would get) on any particular race course. If your handicap for a race is 10, then your time is 10 percent slower than the theoretical fastest possible time. Pace-setters with known handicaps are used to determine the theoretically fastest possible time.
DNS: "Did Not Start" - if you do not start in a race. No points are earned.
DNF: "Did Not Finish" - like if you fall and do not go through all the gates. A single point is still earned if you record a DNF and no time on a second run.
Click here if you need Adobe Reader for PDF files.