Passports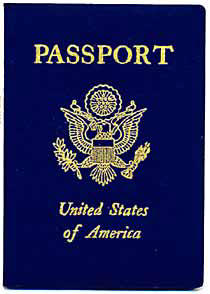 After January 1, 2008, all U.S. citizens, including children, need a valid passport for travel to another country. Make sure your passport will not expire before or during your trip. If you need a new passport, apply at least 6 weeks before your trip.
It takes up to 6 weeks to get a passport. For an additional $60 fee, you can ask for an expedited process (about 2 weeks).
Passport Book vs. Passport Card
A passport book is the standard passport we are all familiar with.
A passport card is the wallet-size travel document that can only be used to re-enter the United States at land border-crossings and sea ports-of-entry from Canada, Mexico, the Caribbean, and Bermuda. The card provides a less expensive, smaller, and convenient alternative to the passport book for those who travel frequently to these destinations by land or by sea. The card was designed mainly for the convenience of people living close to the border, with a frequent need to cross it. It has been available to US citizens since 2008. Most of us don't need it.
The passport card cannot be used for international travel by air.
How to get a passport
You need to fill out one of these two forms:
DS-11 - for first time applicants, for applying in person.
DS-82 - if you qualify for renewal by mail.
The best place to start is the US State Department Passport Service web site at:
http://travel.state.gov/passport/passport_1738.html
or call the U.S. National Passport Information Center: (877) 4USA-PPT., which is: 877-487-2778.
For a first-time application, you need to apply in person (not via the internet). But, at least you can get all the information at the web site. For renewals, you can do it all by mail.
You can usually apply at the Main Post Office in town, or at the County Recorder's Office. A complete list of over 7,000 locations can be found at the US State Department web site above.
Fees: The passport application fee for passport book $110.
The application fee for a passport book and card is $140.
For a new passport, add to that an execution fee of $25. For renewals, this fee is not necessary.
When you apply for the first time, you will need the following:
1. Fill Out Form DS-11: Application For A U.S. Passport
2. Submit Completed Form DS-11 In Person
3. Submit Evidence of U.S. Citizenship
4. Present Identification
5. Submit a Photocopy of the Identification Document(s) Presented
6. Pay the Applicable Fee
7. Provide One Passport Photo
To renew a passport, you don't need to send in an execution fee. Send only $110 (for passport book) or $140 for passport book and card).
Photo requirements:
In color

Printed on matte or glossy photo quality paper

2 x 2 inches (51 x 51 mm) in size

Sized such that the head is between 1 inch and 1 3/8 inches (between 25 and 35 mm) from the bottom of the chin to the top of the head. View the Photo Composition Template for more size requirement details.

Taken within the last 6 months to reflect your current appearance.

Taken in front of a plain white or off-white background.

Taken in full-face view directly facing the camera.

With a neutral facial expression and both eyes open.

If you are taking a digital photo of yourself, the image dimensions must be in a square aspect ratio (the height must be equal to the width). Minimum acceptable dimensions are 600 x 600 pixels. Maximum acceptable dimensions are 1200 x 1200 pixels.
Mail your application to:
National Passport Processing Center
Post Office Box 90155
Philadelphia, PA 19190-0155