NEWS
=======

April Lift Lines - Mt. High Newsletter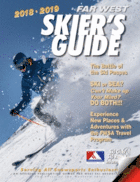 Far West Skiers' Guide
Click on the image here to see this very colorful magazine. Learn all about past and upcoming Far West events, the annual Convention, winter trips, and more. See what other clubs and councils are doing..

Click on each 2-page spread to thumb through the rest of the pages.
Ski Trips survey. We need your opinions.

Please participate in this 14-question survey about our club's ski trips. Tell us your trip preferences and help us to shape future club trips. We set up an online survey using Survey Gizmo. If you get a privacy or security warning, that is simply due to your own security settings, which might be too strict. Feel free to ignore any such alert for this survey. But, if you feel uneasy about the online version, feel free to fill out the same survey by printing the Word document or PDF file and mailing it to us. THANKS!
Our club provides numerous activities in the following categories.
a) Day trips to Mt. Hood ski areas – currently on TRIPS page,
b) Ski trips to other ski areas in the West -- see TRIPS page.
c) Recreational racing – RACING pages.
d) Social events, parties, etc. – on the HOME page.
e) Summer activities (Biking, Hiking, Rafting, Picnic, etc.) – usually on our HOME page.
To fully understand what our club does, please see a whole year of past photos on the PHOTOS page.
_________________________________________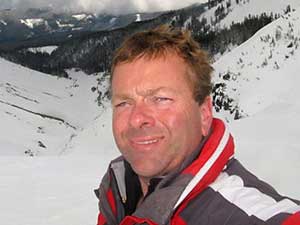 Kenny Brundidge, our club's mid-week skiing coordinator, has died in a tree well accident at Mt. Bachelor, on Friday, March 1, 2019. He was skiing west of the Sparks Lake Run, in terrain served by the Northwest Express lift. He fell into a tree well and suffocated. His companions waited for him at the bottom of the lift. When he didn't show up, they went back to the area they had just skied to look for him, but didn't find him. A couple of snowboarders found him a short time later, but he could not be revived.
Our condolences to Kenny's wife, family, and friends. Kenny was a great guy and an excellent skier. Everyone liked him. We will miss him.
His celebration of life / memorial service will be:
Saturday, March 23rd at 3:00 pm.
Pleasant Valley Church
11125 SE 172 Ave. 
Happy Valley, OR 97086
___________________________________________
Let's ski together! Join for an informal fun day on the slopes! Our weekend skiers tend to go to Timberline and/or Skibowl. Our mid-week skiers usually go to Meadows on Thursdays or whenever there is some fresh powder. How to connect with us?
See the weekend & mid-week entries on our TRIPS page.

Click on our two FORUM buttons in the menu and see who is going skiing and when. Participate in the discussions!

See our Facebook page, where all our members can post their own messages and often invite others to come ski with them. Start by clicking on the Facebook button in our main menu.
Mt. Hood Meadows At Meadows, find us in the cafeteria in the South lodge near the Schuss restaurant (aka The Hamburger Place) around 8:00-8:30 a.m.(That's on the slope level, which is 2nd floor). Left lodge as you walk up from the parking lot. See more in our Mid-week day trips at: http://www.mthigh.org/Trips.htm#Mid-week_day-trips
Timberline At Timberline, we usually meet on the ground floor of the day lodge, Meet inside if the weather is bad, or more likely meet outside, by the free ski check around 9:00 am. We usually wait until at least 9 am for the Mt. Hood Express bus to arrive. Be there in full gear, ready to push off as soon as we are all there. See more about our weekend day trips at: http://www.mthigh.org/Trips.htm#Weekend_day-trips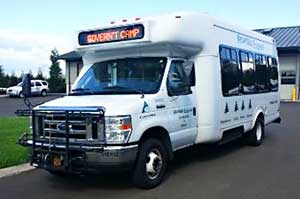 We have always encouraged carpooling from Sandy, and that is still an option. But, now you can take the new Mt. Hood Express bus instead. For only $2 (or just $1.50 if you prepay for 20 tickets), you can ride the bus from Sandy to Skibowl, Government Camp, or Timberline. Catch the bus right on Hwy. 26, at a park and ride bus stop half way between Champion Way and 362nd (which is the Fred Meyer traffic light in Sandy). Turn into Champion Way to park at the Information Center. The most convenient bus starts at 7:45 am and arrives at Skibowl at 8:32 and at Timberline at 9 am. Click here for the complete schedule.
Also note that Timberline runs its own hourly shuttle between Government Camp (stopping at the Mt. Hood Brewing Co., at Collins Lake Resort, and at the Chevron station at the top end of Govy). This shuttle runs only on weekends and holidays. Approximately once an hour to make the full round trip.
Powder Alliance. Unlimited skiing at Timberline and Mt. Hood Skibowl + 3 free tickets at each of 17 other ski areas, for a total of 51 free ski days
Not valid on Saturdays.
Those 71 and over pay only $50.
All prices will increase after Nov. 5 and 26.. See more at: www.powderalliance.com and on the Facebook page:
https://www.facebook.com/powderalliance
NWSCC Trips - NW Ski Club Council and other local ski clubs.
FWSA News Flash - November 2018 issue. Far West Ski Association Newsletter. Trips, Racing, Ski news, and more.
Special Discount on Meadows 10-time pass.
A special deal for all local ski clubs associated with the NWSCC. Get a 10-time pass to MT .Hood Meadows for just $399. )Regular price is $449.) Just click on the heading of this announcement.
Barlow Road field trip photos are now posted on our PHOTOS page. A video will also soon be added there.
Season Passes compared. Compare the cost and benefits of various lift ticket passes. This was first published on page 8 of the September issue of Lift Lines (#177). It is now on our Articles page.
Ski Fashion Show at the Mt. Hood Museum & Cultural Center in Government Camp. See video of this fun event held on March 31, 2018. It shows vintage ski apparel from the 1930s to the present day, including several garments currently available for purchase at Hillcrest Sports in Gresham, Oregon.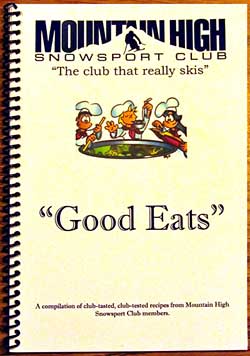 Mt. High Cookbook available.
A great gift.
.
Debbi Kor put together a Club Cookbook, full of recipes contributed by many of our club members. You can purchase the book at any of our social events and ski trips, or
Contact Debbi at: ijustwannarun1@comcast.net
Our 2018 man and woman of the year are: Bill King and Debbi Kor. Congratulations! They are also our current Vice-President (Bill) and President (Debbi). See our Awards page for a list of past men and women of the year and other awards. Please send us your nominations for Man & Woman of the Year for 2019 (by October or early November 2018).


Bill King Debbi Kor
Ski Areas page - new & improved
The best way to get info about ski areas. The updated page contains almost all the ski areas in the West, 170 of them. It's the easiest way to get info for a trip. Just click on whatever ski resort you want.
Also find info on heli-skiing. Also available on our Ski Areas page is an Excel Spreadsheet continaing a list of all the ski area in Norrh America. You can use it to track te places you have skied.
Latest Photos are now on our PHOTOS page, including pictures from the whole past year.
Mid-Week skiing at Mt. Hood Meadows
A group of us skis more or less regularly mid-week at Mt. Hood Meadows. Come join us. See details below.
A group of us skis more or less regularly on weekends att Timberline Come join us. See details below.
Road trip, Skiing some hidden gems. Kurt Wilke and Emilio Trampuz went on a 4-day road trip to ski some small and hidden gems in eastern Oregon and Washington. See this video of their adventure.
The GOOD OLD TIMES will soon be moved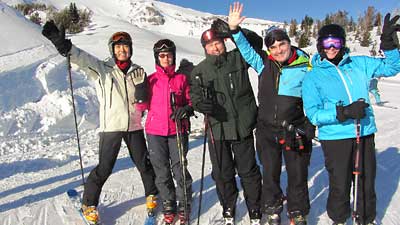 Photos from our whole past year will soon be moved from the Photos page to a new Photos 2018 page. Our Photos page will be cleared to make room for new photos for this coming season, starting with the SkiFever Show and the Kickoff Party.. Just keep scrolling down the photos page to see all our past events.
Skiing North America - An article about our club member John Andrew skiing all of North America has appeared in the Wall Street Journal on March 20, 2016. See here.
Meet at McDonald's in Sandy 7:30 am. We can carpool, or just drive up together. Some of us are going to Timberline or Skibowl. Others are going to Meadows. We can all meet at McDonald's. See details about our day trips on the TRIPS page. Hey, a day trip is a trip too! If you have a 2-way radio, tune it to channel 6-19.
Go to our Bulletin Board and print the special coupon for the adidas employee store, fill it out and get a 50% discount. Thanks to our member Elsebeth Frank for offerng this.
NOTE: This offer is not ongoing. It comes and goes periodically. When it becomes available again, Mountain High club members who have opted to receive ALL emails will be informed by email.
See the new video about what our club has been up to lately. Included is a funny snow report about the upcoming Whitefish Mt. trip.
Membership renewal. Please renew your club membership in the Fall (September, October, or early November). This is also the best time to sign up for a ski trip with the club. It is best to renew in person at the annual Ski Fair or at our annual Kickoff Party. If you do it by mail, simply print print the Dough Transmittal form and mail it in. You can find it on our Membership page and on the Forms & Docs page.
Teams are being formed in October and November, and many teams need a few new team-mates.
Camaraderie, fun, racing, après ski parties and more!
Check it all out on our Racing page and on the PACRATs web site.
Contact: Racing@mthigh.org
Member Benefits updated - 20% off at the Taco Shoppe Thanks to Kevin Bastin, owner of the Taco Shoppe and a Mountain High club member, we have now been offered 20% off of any item on the menu (not just the burritos). But only 10% discount during the summer months.
The Taco Shoppe is located in Government Camp, across the street from the Huckleberry Inn (but a house or two up the road), or just downhill from the Mount Hood Museum. See details on our Membership Benefits page and on our Bulletin Board page. Click here for see their full menu.