NEWS
=======
July Lift Lines - Mt. High Newsletter
NWSCC Newsletter - NW Ski Club Council's newsletter.
FWSA News Flash - Far West Ski Association Newsletter. Trips, Racing, Ski news, and more.
Skiing North America - An article about our club member John Andrew skiing all of North America has appeared in the Wall Street Journal on March 20, 2016. See here.
New Photos See the latest photos from the Crystal Mt. trip, the Montana trip, and recent photos from the Glade, Blossom, and Alpine trails between Timberline and Government Camp.
Meet at McDonald's in Sandy 7:30 - 7:45 am. We can carpool, or just drive up together. Some of us are going to Timberline or Skibowl. Others are going to Meadows. We can all meet at McDonald's. See details about our day trips on the TRIPS page. Hey, a day trip is a trip too! If you have a 2-way radio, tune it to channel 6-19.
The GOOD OLD TIMES have been moved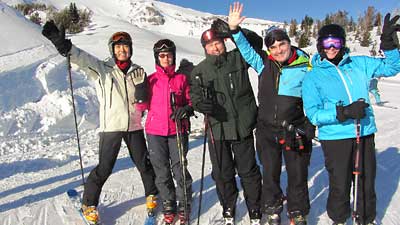 Photos from our whole past year have been moved from the Photos page to a new Photos 2015 page. Our Photos page has been cleared to make room for new photos for this coming season, starting with the Ski Fair and the Kickoff Party.. You can still see all the 2014/2015 photos on our Photos 2015 page and keep scrolling down to see all the different events.
NOTE TO NEWCOMERS
Mt. High best decorated booth!
At this year's NWSCC Ski Fair, our club's booth was proclaimed the best decorated in the "Let it snow" theme. This was our second winning year in a row. See photos here!
There are new items on our Bulletin Board. Check it out!
Season Passes compared. Compare the cost and benefits of various lift ticket passes. This was first published on page 8 of the September issue of Lift Lines (#177). It is now on our Articles page.
We have updated out TRIPS page, which now lists all the upcoming trips for the upcoming 2015/2015 winter season.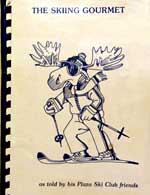 Mt. High Cookbook
Calling all cooks, bakers, BBQ'ers, of Mt. High.
Debbi Kor is putting together a Club Cookbook for next year. If you're interested, send her your favorite recipes. She'll gather them, put them together, and see what we come up with.
Contact Debbi at: ijustwannarun1@comcast.net
Our 2015 man and woman of the year are: Emilio Trampuz and Terry Swan. Congratulations! See our Awards page for a list of past men and women of the year as well as the recipients of other awards. Please send us your nominations for Man & Woman of the Year for 2016.


Emilio Trampuz Terry Swan
Mt. High Entry into FWSA Outstanding Club contest
Kurt Krueger has completed a 10-page fully illustrated document that is our club's entry in the FWSA Outstanding Club contest. Winning clubs will be announced at the Far West Convention in San Diego, CA, in June 2015. Click on the headline or go to our Forms & Documents web page.
Powder Alliance. 13 resorts for the price of one!
Buy a Fusion Pass, which gives you unlimited all season access to both Timberline and Mt. Hood Skibowl, and you will also receive 30 free days at 11 other resorts in the West (3 tickets at each). See more at: www.powderalliance.com an on the Facebook page:
https://www.facebook.com/powderalliance
Also, click here for a Map of Powder Alliance resorts.
Go to our Bulletin Board and print the special coupon for the adidas employee store, fill it out and get a 50% discount. Thanks to our member Elsebeth Frank for offerng this.
NOTE: This offer is not ongoing. It comes and goes periodically. When it becomes available again, Mountain High club members who have opted to receive ALL emails will be informed by email.
If you are 75 or older, you are a "super-senior, and you qualify for the following benefits. Here are just a few examples. There are more:
a) Buy a SEASON PASS to Snowbasin, Utah for $39.
(This pass does not come with Powder Alliance benefits.)
b) Buy a season pass to Powder Mountain, UT, for only $20.
c) Get a free season pass at Bogus Basin, ID.
d) Ski free at Red Mountain, B.C.
Note that the November-December 2014 issue of Skiing History magazine includes a long list of all the places where you can ski for free. The age limit varies from 60 to 80, depending on the ski area. When you read this article online, click on Ctrl-+ key combination a few times to enlarge the page, to make it more readable.
See the new video about what our club has been up to lately. Included is a funny snow report about the upcoming Whitefish Mt. trip.
Express Rental & Service shop in Rhododendron
John Hanson (formerly of the Ski Chalet) is helping Skibowl with a new project in Rhododendron: an Express Rental & Service outlet with retail as well. He says:
"One of our target customers is the high school/ club racer looking to maintain a competitive advantage. Racers can drop their skis off after training nights and pick them up ready to go on race day. We are currently set up to do edge tunes and hot waxes."
Hours are: Mon-Tue: 8-5, Wed-Fri: 8-9pm,
Sat: 7-6pm and Sun: 8-6pm.
Next season, they plan to stock race accessories as well.
Stop by anytime. The location is on the right hand side of Hwy 26 in Rhododendron across from the Village Market.
Phone 844-200-RENT (7368).
Mt. Hood Meadows tickets are available at a discounted price of just $64. See our Bulletin Board for details.
Learn to Ski - Or Help Someone
Our club now has a new page devoted just to beginner skiers, and we need volunteers who are willing to help newcomers to the sport. This is a win-win for everybody. By brining in new people to the slopes, the ski areas get more customers, our club gets more members, and the newcomers get their wings (their skis or boards)!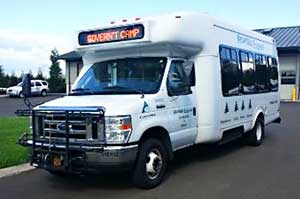 We have always encouraged carpooling from Sandy, and that is still an option. But, now you can take the new Mt. Hood Express bus instead. For only $2 (or just $1.50 if you prepay for 20 tickets), you can ride the bus from Sandy to Skibowl, Government Camp, or Timberline. Catch the bus right on Hwy. 26, at a park and ride bus stop half way between Champion Way and 362nd (which is the Fred Meyer traffic light in Sandy). Turn into Champion Way to park at the Information Center. The most convenient bus starts at 7:45 am and arrives at Skibowl at 8:32 and at Timberline at 9 am. Click here for the complete schedule.
Membership renewal. Please renew your club membership in the Fall (October, November). This is also the best time to sign up for a ski trip with the club. It is best to renew in person at the annual Ski Fair or at our annual Kickoff Party. If you do it by mail, simply print print the Dough Transmittal form and mail it in. You can find it on our Membership page and on the Forms & Docs page.
Now is the time. Teams are being formed right now, and many teams need a few new team-mates.
Camaraderie, fun, racing, après ski parties and more!
Check it all out on our Racing page and on the PACRATs web site.
Contact: Racing@mthigh.org
Thanks to Bruce Kuper for setting up a Favebook Page for Mountain High. It is a Facebook group. Check it out, join the group, and start posting your messages, photos, questions, etc. See it at:
https://www.facebook.com/groups/Mt.High/
Member Benefits updated - 20% off at the Taco Shoppe Thanks to Kevin Bastin, owner of the Taco Shoppe and a Mountain High club member, we have now been offered 20% off of any item on the menu (not just the burritos). The Taco Shoppe is located in Government Camp, across the street from the Huckleberry Inn (but a house or two up the road), or just downhill from the Mount Hood Museum. See details on our Membership Benefits page and on our Bulletin Board page. Click here for see their full menu.
Trips calendar & Questionnaire -- MS Word or PDF file
Check out the preliminary (draft) copy of the 2015 winter trips calendar, and then please fill out the questionnaire on page 2. Let us know your trip preferences. This questionnaire will be distributed at our quarterly social, May 21, but you can also email it to us, either to info@mthigh.org or to Emilio2000@earthlink.net
Emilio's side-country article on Shred Hood
Check out a detailed description of Timberline's side-country options in an article written by Emilio and just published on ShredHood.org. It's a 5-page article, so click on the "Next" button at the bottom of each page. And don't be confused by the fact that each page begins with the same trail map, for easy reference.

ShredHood.org is a web site devoted to everything Mt. Hood. It contains the latest news, classifieds, racing, new school, old school, videos, slides, events, resources.
The web site was started by Ben Jacklet, a local journalist.
Check it out: http://shredhood.org/
Powder Alliance adventure blog
Emilio has left on a 4,000 miles road trip to ski as many Powder Alliance ski areas as possible. Lots of driving. But the skiing is free for anyone with a Fusion Pass. He will try to keep a diary marking his progress. Check out his "Ski Delights" blog at: http://skidelights.blogspot.com/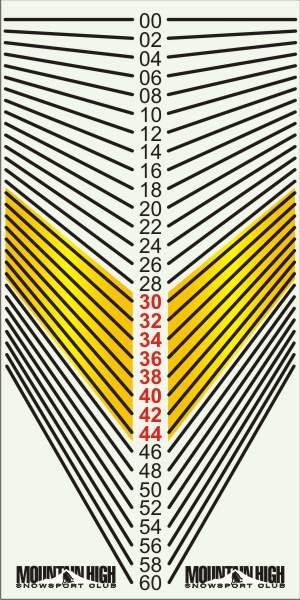 Attach this simple device to your ski pole and use it to measure the slope steepness.
.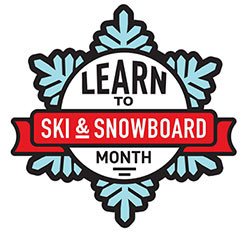 January is Learn to Ski & Snowboard Month
Introduce a new person to the sport by having them take a lesson from a certified ski instructor, and you could win a prize